Wagatabon – The story of wooden trays from a small Japanese village
The Wagatabon is a type of wooden tray that used to be made by roof shingle makers in Wagatani village, Ishikawa, a snowy area of Japan. It is said that the trays had been made there since the early 17th century. The makers used to cleave green chestnut logs to produce shingles, and kept the good ones to carve trays in winter. They exchanged their trays for clothes and food. Large ones were used for carrying bowls and plates, small ones for keeping small tools. Deep ones were also used for giving an offering of rice and grain to their ancestors at a small shrine in their homes. In 1961, the whole village, numbering less than 100 inhabitants, was evacuated because of the construction of dams which flooded the area, and the craft died out. The beauty and simplicity of the Wagatabon was then re-discovered by several craftspeople, including Tatsuaki Kuroda, Japan's first living national treasure in woodwork - 人間国宝 Ningen Kokuhō. Since then, a small number of craftspeople have been making them for daily use. One of the last living masters of his craft - Shinichi Moriguchi - also inspired my work.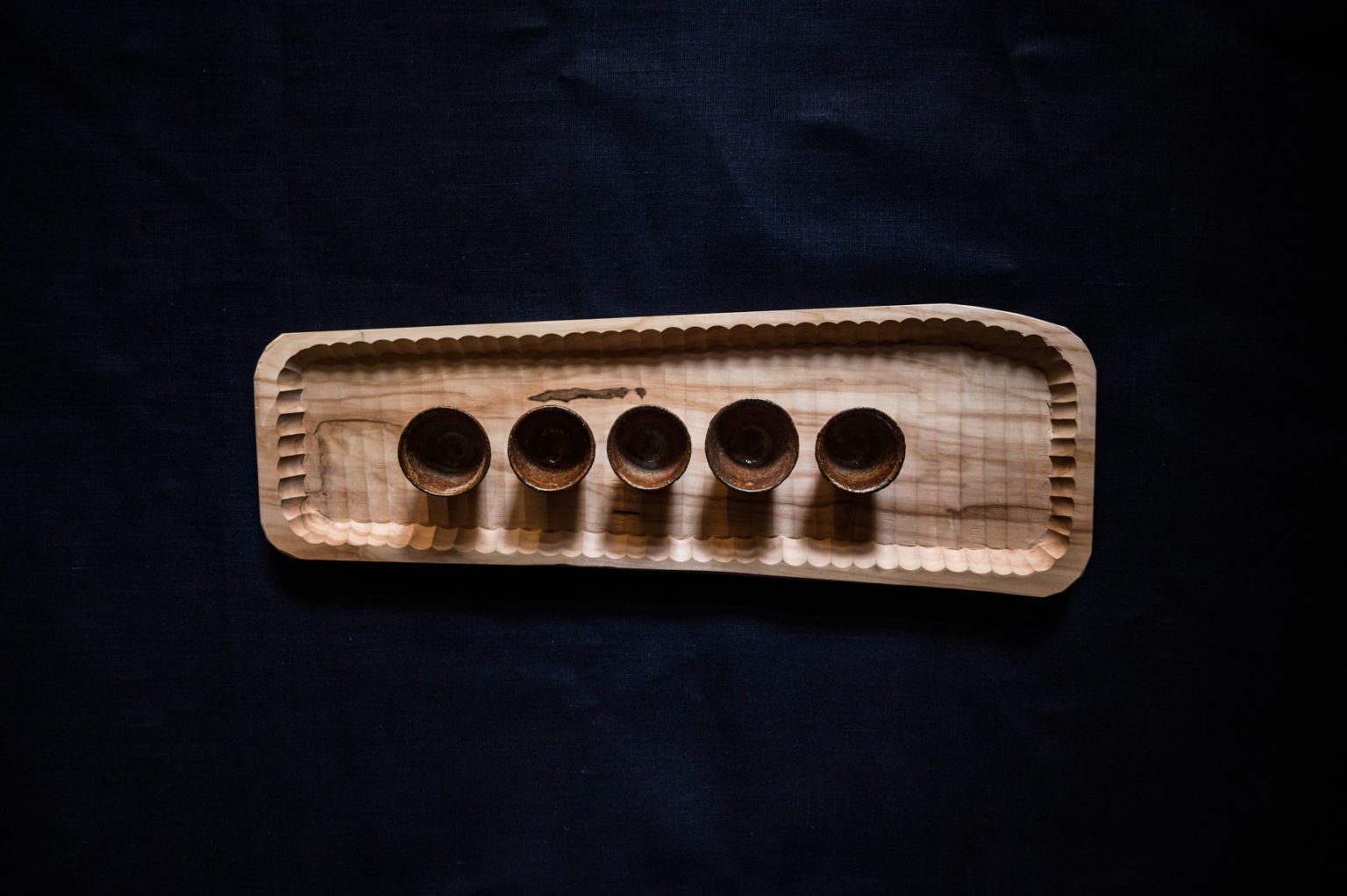 At present, Wagatabon trays are mainly used in Japan to prepare and serve tea. But they also found their place in gastronomy, where they are used in the serving and experiential presentation of food and beverages in luxury restaurants. Now you can enjoy the same experience in your home with the TeaTom Wagatabon tray, which I have carved for you from local wood.
I currently carve the Wagatabon trays out of 30 year old dried walnut wood and old chestnut, which has a beautiful grain. I leave the shape and design of the tray on the wood itself. I like to leave intact the natural shapes, knots, live edges with bark and beautiful wood grain, which always fascinates me. With the chestnut, I take advantage of the splintering feature of this wood. Newly created splinters are always a surprise and an interesting aesthetic element combined with perfectly planed edges. For surface treatment I use a traditional ebonizing solution, natural dyes, mostly in combination with tung and orange oil or only an oil finish.