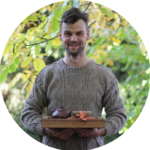 Hello good people,
I was studying for many years at the university and I tried office work as well. Soon I realized that to have a sedentary job and all that goes with it is absolutely not my nature. I decided to listen to that voice of Mother Nature which called me and I stepped on a new path. The path took me every weekend to the forests in the surroundings of our nice cottage where I found the inner peace and fresh energy. Forest has become my true environment and wood my new company. I started to spend outdoors all the free time I had. Every time I went to the forest I brought back home some nice piece of fallen wood that ignited my inner imagination. I started to feel and shape the wood with my hand tools, which do not disturb the surrounding nature with any annoying noise of the modern world. It was the power of the wood and Shinrin-Yoku, so-called "forest bathing" which took me to the new beginning.
I realized that creative manual work with wood is what satisfied me the most. The passion for woodworking and the joy, which brought me, was so powerful that I decided to leave my office job and live my dream. In other words, convert my hobby into a full-time passion and job at once. This kind of job, which wakes you up in the morning and every time brings you a new adventure, new experience and pleasure from what you are doing.
Studying traditional woodworking techniques step by step and learning from every successful cut and every failure is the route I am going to take.
Doing what you love, that means to me a great beginning of living a sustainable lifestyle in the modern world of 21st century. That's why I would like to inspire (at least a little bit) those who hesitate to really do what they love, to go to the forest more often, to respect the Mother Nature and to live a simple lifestyle of enjoying all the little things –  as one cup of tea in the garden before another joyful working day. This is what Tea Tom is about.

MY WORK AND ME
My name is Tomáš Heller and I am 28 years old, living alternately in Prague and at the cottage, where stays my garden workshop. I am a Master Graduate from Sustainable Rural Development of Tropics and Subtropics. However, I fell in love with the forests and mountains of a temperate zone, so I decided to take advantage of what I have learned during my studies and apply it to my personal life. My aim is to live a sustainable lifestyle through woodworking, staying outdoors, act environmentally and pursue my passion.  
I am not saying NO to new technologies (hello internet and Instagram J), rather I am trying to find an optimal balance between modern and traditional technology in daily life, a right balance between urban and rural lifestyle.
My higher target is to study traditional woodworking techniques and crafts to keep as much knowledge as possible for the next generations. Therefore, the lore and tools of our ancestors will not be forgotten.